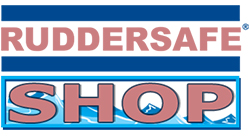 Ruddersafe-shop.com is a subsidiary website of the Dutch website Shipsworld.NL
On our website Shipsworld.NL, the best water sports shop in The Netherlands, you will find a lot of beautiful nautical products!
Our website is filled with a lot of articles for the water sports branche and also for any outdoor activity.
And ofcourse: all our water sports products, outdoor products or nautical products really have
amazing prices
!
Shipsworld sells leading nautical articles from many leading vendors in the water sports industry.
The brands we sell on our website:
Ruddersafe - The Dual Rudder -
dual rudder / safety rudder for outboard engines (z-drives)

Trend Marine
(by Haveco)
-
sailcloth bags, sailcloth accessories and sailcloth articles
Welcome On Board
-
porcelain tableware and accessories
Yachticon
-
cleaning and maintenance products for your boat or caravan
VION -
compasses, barometers, thermometers, hygrometers and quartz clocks
Altitude -
quartz clocks, ships clocks, barometers, thermometers
Delite -
marine lights, ships lamps, oil lamps, wall-powered electric lamps

Wempe
-
marine instruments, marine clocks, barometers and hygrometers
Schatz 1881
-
marine instruments, thermometers and hygrometers
Marine Business
-
melamine tableware, unbreakable crockery, acrylic tableware and accessories
Nico Signal
- distress signals
Yachtiflex
- rollable bed frames
Fast Shipping
For the shipment of our Ruddersafe or nautical products we use the company DHL.
And ofcourse: we will also provide you with a Track and Trace code if requested!
Paying Safe
You can pay us safely with: bank transfer, creditcard, PayPal, iDEAL, SOFORT Banking or even bitcoins!
If you pay your order on business days, and all products are on stock, we will send out your order the same business day.
Powered by:
Mollie
, the safe paymentprovider!
Need more support?

Just call our Shipsworld.NL support team on business days from
Mon-Thurs
9:30 AM
- 5:00 PM (GMT+1)
on the following number
+31(0)229-563177
.
On Fridays we are only available by e-mail

.
Send us an e-mail at:
info@ruddersafe-shop.com
or
info@shipsworld.nl
Curious about our other products?
Feel free to visit our other website at
https://www.shipsworld.nl

Seeing something you like? Please contact us!